Keep your leather sets clean and fresh
Are your leather seats looking worn and tired? Leather Conditioning will help!
Are your leather seats looking a little worse for wear? Trust us, we know how important it is to keep those leather seats looking their best. That's why we offer top-notch leather cleaning and conditioning services to bring your seats back to their prime.
Our team of experts only uses the best products out there to give your leather seats the love they need. We'll work hard to remove any dirt, grime, and stains that have built up over time, leaving your seats looking and feeling like new. Plus, our conditioning treatment will help extend the life of your leather seats, keeping them in tip-top shape for years to come. Don't let those seats deteriorate any further, give us a call today to schedule your cleaning and conditioning service and keep those leather seats looking their best.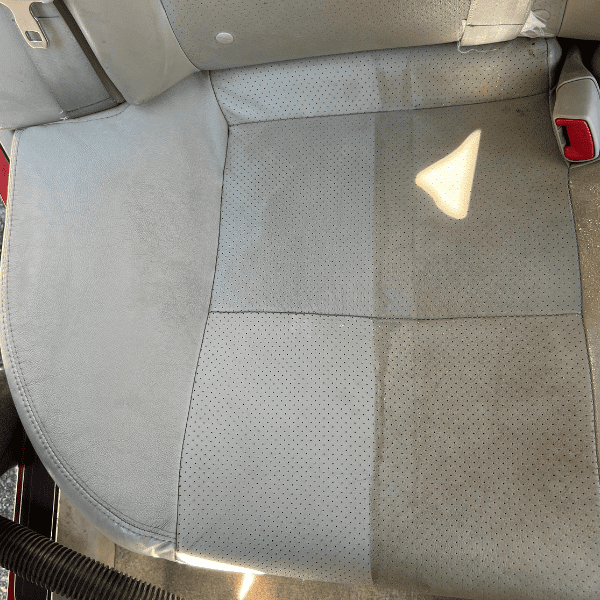 Will they look like new? Keep in mind it the process to restore leather
Just a heads up, while our cleaning and conditioning services can work wonders on many stains on your leather seats, some stains may be too stubborn to remove. This can happen for various reasons, like the stain being on there for a long time and changing the color of the leather permanently, or the stain is caused by dyes or pigments that have seeped deep into the leather fibers.
When it comes to stain removal, timing is everything. The older the stain, the harder it is to remove. But if you catch it early enough and let our trained professionals handle it, we can remove almost any stain from almost any fabric. That's why it's important to address any stains on your leather seats as soon as possible to give us the best chance of removing them. Our team will do everything in our power to remove as many stains as possible during our cleaning and conditioning service.
Give us a call and book an appointment to restore your headlight
Cleaner Bros guarantees satisfaction and excellent work!
We understand how difficult it is for everyday drivers to keep their cars clean after every trip. You deserve a car detailing service that takes care of all your needs.
Don't trust my word, trust our client's reviews, you will definitely share the experience with your family and friends; we are sure you will say: "Cleaner bros did an amazing job restoring my leather seats."